If you took a poll of current educators, one of the top things that teachers would tell you they need is more TIME. Although I can't give you more time in your day, I can help you maximize your time!
One struggle with time is being able to teach the many standards WELL in a short amount of time. Here in Georgia, fourth grade teachers are responsible for teaching students pre-explorer days with Native Americans, to exploration of the United States, to colonization, to the American Revolution, to the creation of our government (new nation), to the War of 1812, to Westward Expansion, to abolitionists and suffrage movements… ummmm hello?! That's over 400 years of history in one!
Mentor texts are the best way that I have found to be able to cover numerous skills at once. In this post, you'll see how to teach standards in reading, writing, grammar, and social studies with just one book. Content integration can be a lifesaver if you are trying to maximize your time!
There are so many wonderful historical fiction books out there. We would be here all day if I started listing my favorites! But one of my favorites that I'll focus on in this post is Henry's Freedom Box.
If you teach about the Underground Railroad or abolitionism, this is an amazing book to use! But you don't have to ONLY read this book during your social studies time for a history lesson…
Reading
Definitely read the book during your social studies time to relate it to your teaching about the Underground Railroad, but then refer back to parts of it to cover some reading skills!
There are some great vocabulary words in this book that students can use context clues to define.
Henry "Box" Brown is as a truly courageous man. Students can analyze Henry and determine character traits to describe him.
Students can find evidence in the story to demonstrate ways slaves were treated unfairly (which also relates back to your social studies content).
Students could compare Henry to Harriet Tubman and discuss how they both took drastic measures to escape slavery (again, goes back to social studies content, too).
Writing
This book really sparks emotion in students and gets them interested in the time period. What a great time to allow students to do some research and write an informational piece about the Underground Railroad or civil rights!
Grammar
And of course, you can't read a good mentor text without analyzing a good mentor sentence, too! (Unfamiliar with mentor sentences? Click to
read all about them
or check out the ready-to-teach units in
my TPT store
!) This book is full of great descriptive sentences that students can use as models for their own writing.
Being able to cover all of these skills with just one book not only helps you maximize your time, but it also will help to ingrain the social studies content you need to teach as well.
Do you want to use this book for all of the skills I just listed above? Here you go! :o)
Looking for ready-made, detailed, explicit mentor text lessons for the week that also integrate content across the subjects?
Join the club!
No really… there's a club!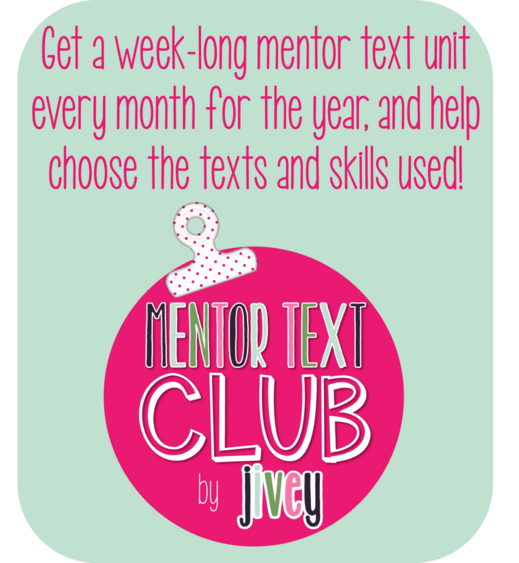 Do you loathe grammar? I bet I know why. You are tired of drill and kill style grammar teaching. Or you wish students would quit guessing what the error MIGHT be in your DOL or DGP (or any other acronym that might represent your grammar program) sentence of the day, because it doesn't carry over into their writing anyway.
Have no fear! Jivey is here! 🙂 Stop showing students sentences full of mistakes. Start using mentor sentences from your favorite mentor texts that you already use to teach other skills, and your students will actually be EXCITED for grammar and writing instruction!
Most teachers will agree, style and conventions are the two areas that are the most difficult to teach and the two areas that usually suffer in student writing. Mentor sentences help you teach these two domains in a way that is fun for the students AND you! Each day, students will do something a little different with the sentence. Each week, students will focus on one or two skills, but they will still be exposed to several skills, many of which they have already learned from previous mentor sentences, so the spiral learning really makes an impact.
Ask students what they notice about the sentence that makes it a great one. If this is your first mentor sentence lesson with your students, you may need to prompt them more with questions like, "What type of sentence is this? What interesting words did the author use? Is there any figurative language? What did the owl do?"
Choose a few sentences to celebrate- give the students sentence strips to write their sentence and hang in the classroom. You'll be amazed at the style that comes out of your students! Students should also continue practicing the structure of the mentor sentence. After several weeks of showing them that you expect them to use their mentor sentences to help them with their own writing pieces, you'll find that students pull out their mentor sentence notebook without you even asking them!
If you want even more IN-DEPTH step-by-step help with implementing mentor sentences, check out my courses!
If you are looking for guidance to pick the "just-right" bundle for your needs, click below!
For more Mentor Sentences Resources and ideas, follow my Pinterest board!
Mentor texts are perfect for students of all ages! If you don't believe me, read here. 🙂 One of the best parts of using a mentor text is that it gives you more time to TEACH! Once you've read the book one time, you only need to re-read or refer to parts of it for your mini-lessons.
In this post, I am going to explain how I used the book, When Lightning Comes in a Jar by Patricia Polacco to review vivid verbs in writing (and help them implement in their own writing), review parts of speech and similes in grammar through mentor sentence lessons, and do a close reading lesson where they use text evidence to support their thinking during reading.
You can find all of the activities I will be discussing in these two freebies in my store:
The students were already familiar with vivid verbs, so I wanted them to "read like a writer" and listen for vivid verbs as I read the story to them for the first time. Patricia really has a beautiful way with words, and all of her books have great vivid verbs- this one was no exception!
Students wrote all of the vivid verbs they heard as I read, then they shared what they heard with a partner. This recording sheet becomes part of their writing resource folder, so they can use it during writing time to help them revise if they need ideas. Later in the week, I had them pull out their writing piece and work on revising their verbs.
Over the course of the week, we also used one sentence from the story as our mentor sentence:
The focus was still on vivid verbs to tie in with our writing lessons, but look at all the other great things we got to talk about with this sentence! Compound subject, simile, prepositions, proper noun, plurals… the list goes on! That's what I love about mentor sentences- the students get so much out of it each week and it really becomes a spiral review if you consistently use them. They are also looking at why the sentence is written WELL instead of a bad sentence full of errors (trying to figure out what might be wrong with it).
One thing students always need more practice with is close reading and finding evidence… but you don't have to only do this with a nonfiction article! As a teacher, you can legally photocopy an excerpt of a book for the students to use in an educational setting. I copied the two pages where the aunts and Gramma were telling crazy tall tales. Students read this quietly and annotated their thoughts as they read, then we discussed their thoughts. They agreed that Aunt Ivah was exaggerating her story because no one would pick up a rattlesnake with an umbrella, much less get close to one!
We did the first two jars together, then they tried it on their own with the last two jars.
There is also an activity included in the freebie where students find text evidence to support the theme of the book, if you're interested.
So I know reading about how to do all this and actually SEEING it are two different things… so I've made a new video!! I have several videos on YouTube but wanted to show how I tie everything together with one mentor text. Now, I'll warn you… this one is longer than the others with multiple lessons happening… go ahead and grab your popcorn! 🙂
Thanks so much for reading! For more mentor text resources, head over to my store or click the specific products below!
Looking for ready-made, detailed, explicit mentor text lessons for the week?
Join the club!
No really… there's a club!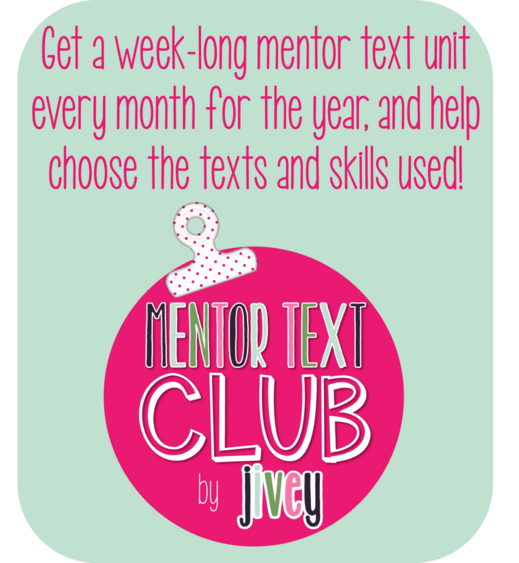 Mentor sentences help you teach style and conventions in a way that is fun for the students AND you! Over the course of a week, students will work with one super sentence from a mentor text in different ways each day. Each week, there will be a focus on one or two skills, but they will still be exposed to several skills, many of which they have already learned from previous mentor sentences. This spiral learning truly makes an impact on their retention of skills and writing abilities.
With mentor sentences, you will be teaching with a well-written sentence, not a sentence full of mistakes. The problem with programs that present random sentences to students that are full of mistakes is, the students don't even know what it is SUPPOSED to look like! Students are just guessing about what is wrong with sentences. But with mentor sentences, we are exposing students to amazing craft with correct structure and mechanics. This help students learn the RIGHT way to write, not the wrong.
I didn't always use mentor sentences in my classroom. But as soon as I read about them back in 2010 in Jeff Anderson's book, Mechanically Inclined, I knew I had to figure out how to make them work in my third-grade classroom. It just made sense! (His books at that time were aligned to middle grades, and didn't include specific lessons.) I adapted a routine that aligned with our standards and what I expected students to do each day, and suddenly, mentor sentences became my favorite part of the day!
Five Reasons I Couldn't Stop Using Mentor Sentences:
#1: I already used children's literature to teach my mini-lessons in reading and writing. Why not use those books for grammar, too?
#2: My students were having these super deep conversations and even DEBATES about grammar and language. I'd never heard students be able to explain the functions of words so well before, or analyzing craft like actual authors!
#3: My kids didn't know they were learning grammar during our daily Mentor Sentence time. Seriously- they looked at it as a scavenger hunt and a challenge!
#4: My students' grammar knowledge AND WRITING improved. And not just mine… lots of other teachers saw it, too!
Check out this case study
to read even more about the amazing improvements that happen with mentor sentences.
#5: It only takes 10-15 minutes per day! In a world where there just isn't "extra" time, this was easy to manage – plus it took the place of grammar lessons that weren't effective.
WHO SHOULD TEACH WITH MENTOR SENTENCES?
Teachers who are tired of grammar lectures, Powerpoints, and drill-and-kill worksheets that don't actually transfer to writing should absolutely throw all of that out and jump headfirst into the mentor sentence routine.
Teachers who enjoy using mentor texts to cover content and maximize teaching time will love adding mentor sentences to their toolbox.
And most importantly, teachers with students of ANY ability can use them; because of the consistency, students know what to expect each day, and the spiral learning keeps those important skills in front of them week after week. Multilingual students who aren't proficient in English, and students with special education accommodations are DEFINITELY going to benefit from the mentor sentence routine.
WHY ARE MENTOR SENTENCES A BEST PRACTICE?
Grammar should be taught in context, NOT isolation. Studies like this one have shown that the "traditional method" of grammar workbooks, lectures, and diagramming is not only ineffective but can be detrimental to student writing!
Mentor sentences also check ALL the boxes of the language comprehension strands in Scarborough's Reading Rope, 100% supporting the science of reading research.
Mentor sentences will help improve craft by revealing fantastic models of figurative language, descriptive words and phrases, and interesting sentence variation that they use as models for their own writing.
Mentor sentences allow students to soak up the language and grammar skills through noticing, conversation, and imitation, which in turn transfers to their writing.
WHAT IS DIFFERENT ABOUT MENTOR SENTENCES?
The daily class discussions around language are when the students are going to learn the MOST. This is why mentor sentences should never be solely "independent work" or "morning work." The engagement in those conversations is what will give many students a "lightbulb moment" and help those skills transfer to writing.
This also means the lessons differentiate themselves. Not all classes are going to notice the same things, and of course, not all GRADES are going to notice the same things at the same level. In the linked articles at the bottom of the post, you will find an example lesson that can be effectively used in second, third, fourth, or fifth grades!
WHEN DO YOU TEACH THE MENTOR SENTENCE ROUTINE?
I suggest incorporating mentor sentences into your writing time, as it should be directly connected to their writing. It should also replace your grammar-in-isolation lesson. Also, it will sometimes replace your style and conventions mini-lessons that you teach during writing time. For this reason, I like to START writing time with the mentor sentences routine. This also helps get students into a writing frame of mind, and often gives them a purpose for writing that day!
CONSISTENCY IS KEY! To see real improvement, you need to carve out a time in your schedule to do Mentor Sentences daily. I promise you, it's worth it! You won't have to teach grammar in isolation so much anymore (BORING!) and you'll see improvement in the students' writing!
WHERE SHOULD STUDENTS KEEP THEIR MENTOR SENTENCES?
Students should complete their mentor sentence work in a notebook. This becomes a perfect "living resource" to use during writing time. It will contain a collection of amazing sentences, skill practice, and sentence structure practice that they can apply to their own writing. Visit this post to see suggestions of setting up student notebooks.
Ready to get started with the routine?
Want to join the free training?